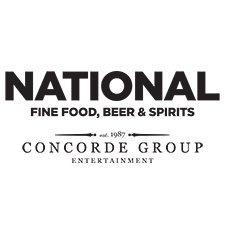 Our fundraiser at National on 10th on March 24th, 2019 was a huge success! Through their generous support, we were able to raise an additional $20,000 for the Quinterra Legacy Garden project. We are truly honoured to have such a great, community-minded organization stand beside us as we work toward our goal of building something that will be of interest to all Calgarians. Great food! great people! great night! and thanks again to everyone that came out to support the event. 100% of the donations raised will go directly to the Quinterra Legacy Garden Fund. The families are looking forward too many more of these fundraising events in the future! A special thanks goes to National on 10th, Concorde Group Entertainment, The Rec Room, Oranj Fitness, The Canadian Brewhouse, The Gateway, RnR Wellness Spa, SpacePort, Laser City, Famoso, Cobbs Adventure Park, Good Life Fitness, Camp Brand Goods, Big Horn Meadows, Crickle Creek Coffee, Calgary Combat District, Inhale Exhale, Kicking Horse Coffee, Military Museum, Your Turn Health, Visual Hues Photography, Curious Hair Salon, Jubilations, Richmond's Pub, Aussie Rules, Water Edge Pub, Laquerista, Alberta Apparel, Jewelry by Terry Braglin, Homefire, Laser Health Solutions, Vintage Jewelry, Hayley Colours and Shelly Wolf.
Should you wish to contribute a tax-deductible donation to the fund we would be very appreciative and humbled by your support. Donations to the Quinterra Legacy Garden fund can be made online at Parks Foundation, Calgary (Community Projects) (select 'Quinterra Legacy Garden' under the 'Fund' drop-down menu). All online donations will receive a tax receipt via email instantly. Mail in donation forms can be located at Parks Foundation, Calgary under DONATE. Cheques that come with e-mail information will receive a tax receipt from Parks Foundation, Calgary as an agent of the City of Calgary for any amount. Only cheques of $100.00 or more with NO e-mail information will be mailed a tax receipt.
If you are unable to donate that's okay, we would appreciate it if you could please share this with other friends and family that may be able to do so. A little share can go a long way.
Sincerely,
Quinterra Legacy Garden Group
For more information please contact us at quinterralegacygarden@gmail.com