The Quinterra Legacy Garden will be Calgary's first fully dedicated music garden and performance space.
Quinterra Legacy Garden – Flyover Video by Quinterra Legacy Garden Group
GIVING BACK TO CALGARY: QUINTERRA LEGACY GARDEN CONSTRUCTION WILL BE COMPLETED THIS SUMMER
CALGARY, AB – June 16, 2020 – Construction is well underway on the Quinterra Legacy Garden, Calgary's newest outdoor park area dedicated to music and performance in South Glenmore Park.
Construction of the garden is anticipated to be completed this summer, providing a new space for Calgarians to enjoy. The garden has been created with the intention of:
Supporting the arts with music, dance and theatre;
Supporting mental health by providing a place for reflection, meditation, inspiration and healing;
Supporting youth through play, music and inclusivity; and,
Giving back to the community with a new park amenity for all Calgarians to enjoy now and in the future.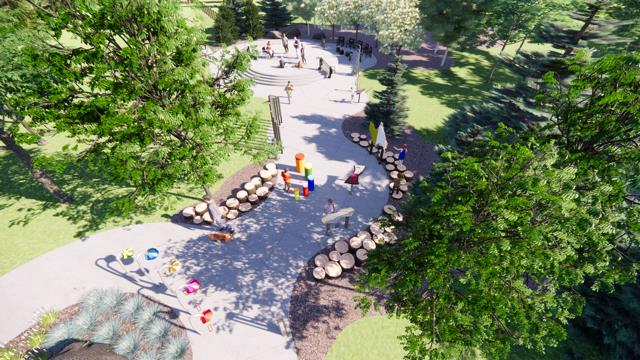 A rendering of Quinterra Legacy Garden (Bassett Associates Landscape Architecture).
Unique features of the Quinterra Legacy Garden include a concrete performance stage, outdoor musical instruments, ornamental trees, picnic area and immediate access to Calgary's pathway system along the Glenmore Reservoir.
"Creating this garden has been a huge collaborative effort for so many people who knew and loved our children, as well as individuals and organizations who were moved by our childrens' stories and wanted to find a way to help," says Barclay Hunter, on behalf of the families of the Quinterra Group. "We are so grateful to everyone who has contributed on our journey so far."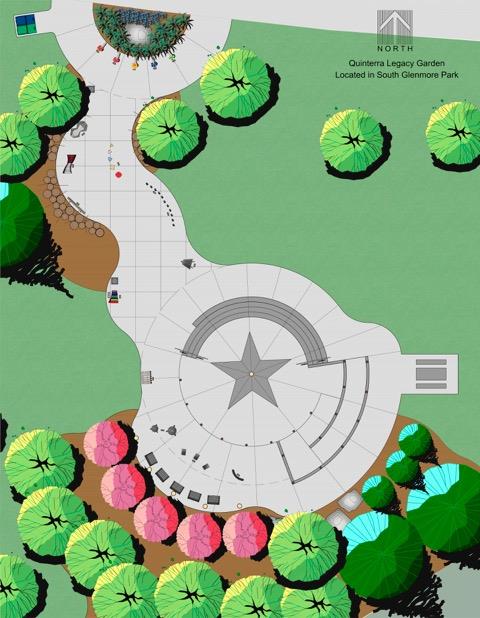 A rendering of Quinterra Legacy Garden (Bassett Associates Landscape Architecture).
ENMAX Corporation has also been added as a new Founding Donor of the Quinterra Legacy Garden. With ENMAX's generous donation of lights and power, the garden will be greatly enhanced, enabling the space to be used and enjoyed in the daytime and evening.
"The Quinterra Legacy Garden will provide a beautiful and unique place for community members to come together," says Diana Stephenson, Vice President, Public Affairs, ENMAX. "We're honoured to support the lighting needs of this special initiative and look forward to seeing Calgarians enjoy the space for years to come."
The Quinterra Legacy Garden celebrates five inspiring young people: Lawrence Hong, Josh Hunter, Kaitlan (Kaiti) Perras, Jordan Segura, and Zackariah Rathwell, whose lives were lost on April 15, 2014, in the quiet suburban neighborhood of Brentwood in Calgary.
"Our children lived life to the fullest with positivity and optimism. We have been inspired by their
lives, learning that beyond tragedy and loss, there is light," says Hunter.
The thoughtful design of the garden will also lend itself well to the province's ongoing physical distancing protocol due to COVID-19, providing an opportunity for safe, spaced gatherings as well as individual outdoor enjoyment.
"When we imagined this garden, we knew we wanted it to be a place of music, the arts, dance theatre, as well as quiet contemplation and peace," says Hunter. "Today, in light of the pandemic, Calgarians are seeking and enjoying outdoor spaces more than ever, and the design of this space will be a place where visitors can feel safe while being part of a greater community."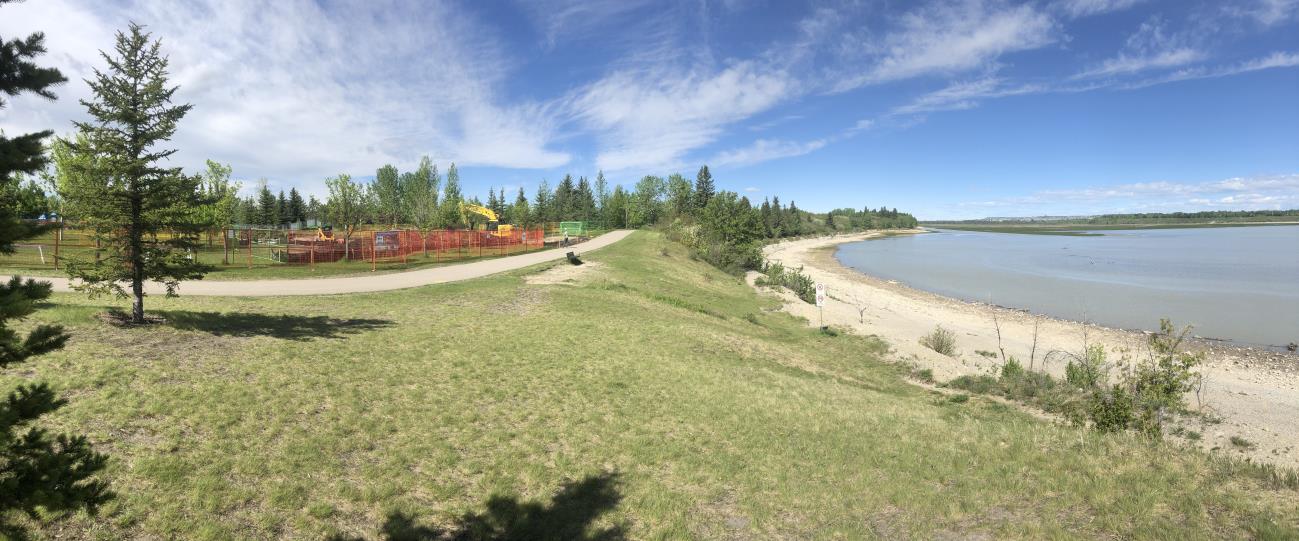 Construction of the Quinterra Legacy Garden is well underway at South Glenmore Park.
The family-friendly garden hopes to become an ongoing host venue for community events and performances.
Key partners for Quinterra Legacy Garden include: City of Calgary Parks Department, Parks Foundation Calgary, The Calgary Foundation, ENMAX, Bassett Associates Landscape Architecture and the Prophets of Music.
The Quinterra Legacy Fund is grateful for contributions from community members and organizations that helped support this vision. Donations to help ensure this space will be a legacy for decades to come are still being secured. To make a contribution, visit https://www.parksfdn.com/community-projects.
Opening details for Quinterra Legacy Garden will follow later this summer.
About the Quinterra Group:
The Quinterra Group is a community built of family and friends of Joshua Hunter, Kaitlan Perras, Jordan Segura, Lawrence Hong and Zackariah Rathwell—the five young lives lost in a tragedy on April 15, 2014, in Calgary's Brentwood neighbourhood. The Quinterra Group's mission is to provide a peaceful, contemplative and vibrant outdoor space for Calgarians to reflect, heal and remember. The Group supports student initiatives related to music, the arts and community, and will continue to build legacies. For more information about the Quinterra Group or the Quinterra Legacy Garden, visit quinterralegacygarden.com.
Follow us on Instagram, Facebook and Twitter.